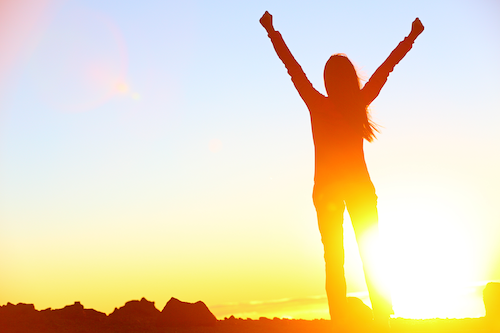 Between talent shortages and client defection, establishing a clear niche, and building a positive reputation, there are a lot of moving pieces that can fall apart for agency owners. In the worst-case scenario, an agency may have to fold if it cannot identify and implement strategies to address these common hurdles.
Are some agencies more likely to struggle than others?
For those that overcome these challenges, what's their secret ingredient for success?
What makes an agency unbeatable?
In 2022, we continued our annual research by exploring the attitudes, challenges, and goals of 343 owners and leaders of small to mid-sized agencies across the U.S. Our research yielded a margin of error of five percentage points at a 95% confidence level, which means agency owners can utilize the results we'll discuss below for strategic planning and agency management.
Our research methodology is unique in that it organically reveals attitudinal segments that are statistically different from each other, and their thoughts, feelings, and behaviors can provide rich insights into the questions above. Equipped with these insights, agency owners can make meaningful improvements in how they run their agencies; it's the difference between riding the waves or getting caught in the undertow.
Five Agency Segments
Which of the following agency segments do you relate to?
Thought leaders make up 21% of our respondent pool, and they attribute their success to leading with their expertise. In addition, most (90%) strongly agree their agency has a strong and unique niche positioning, which they commit to utilizing in their marketing efforts.
At 20% of respondents, Staffing Strugglers have faced severe staffing losses in recent years. Their ongoing workforce struggles impact their ability to succeed, and they're considering options they've never considered before. Most of them say they may be unable to hire the right people to pursue new business opportunities.
Change Seekers (20% of respondents) feel the industry has changed dramatically, and their agency must change to stay relevant and profitable. They struggle to sell strategic services and say their clients don't want to invest in these services. These respondents are least likely of any segment to feel optimistic about their agencies' future.
Cobbler's Kids (21% of respondents) say they deprioritize marketing their agency, consistently putting client work first. Compared to other segments, their marketing efforts are haphazard, and they're least likely to be developing thought leadership.
Representing only 17% of respondents, Loyalty Builders stand out for their agency's client retention efforts. They report going above and beyond, paying special attention to reporting and have an established loyalty program for clients.
Out of all the segments, Thought Leaders and Loyalty Builders are more resilient to the ups and downs of the industry, and it's because of three pillars of success: developing thought leadership, establishing a clear niche, and being intentional about client relationships.
Compared to the other segments, stressors are more like blips on the radar rather than direct hits for these agency owners.
Agency Concerns
Nearly two in three respondents strongly agree that clients underestimate the amount of work they do for them, the top concern overall. In addition, over half of the respondents strongly agree that marketing their agency is always a lower priority than client work, finding qualified employees is harder than ever, and they worry that salary levels will impact the experience and talent of their workforce.
However, Thought Leaders and Loyalty Builders are less likely to strongly agree their agencies are bothered by a range of concerns.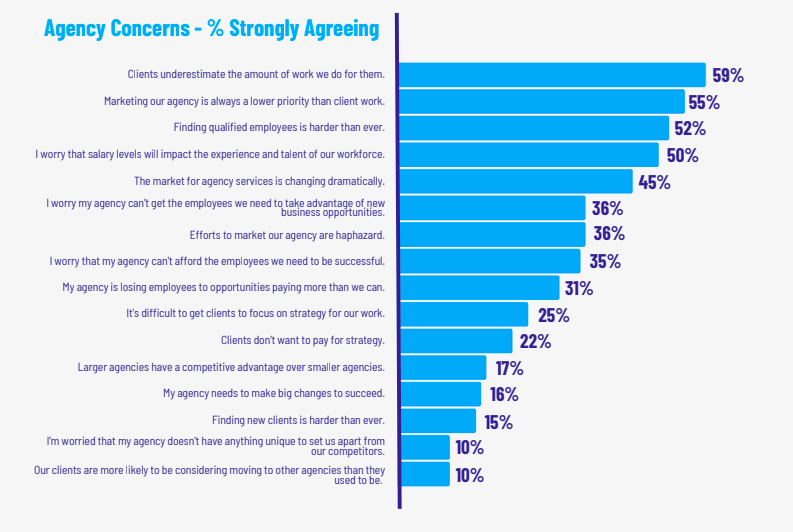 We're not surprised client relations tops the list and that agency marketing and workforce issues are close behind. It seems internal marketing has a well-worn spot in the backseat, but it's vital to attracting the clients you want and the talent you need. 
Agency Challenges
Respondents cite talent shortages (48%), prioritizing agency marketing efforts (40%), and salary levels (36%) as very challenging for their agencies.
Once again, Thought Leaders' and Loyalty Builders' perspectives differ from the other three segments. For example, these two segments are significantly less likely to rate agency marketing efforts, employee salaries, competitive differentiation, reputation among prospects, and the risk of client defection as severe challenges.
Only 1% of Thought Leaders cite competitive advantage or reputation as a thought leader among ideal prospects' top-two box ratings. Standing out from competitors and being seen as an expert source of information and guidance are the furthest thing from a challenge for these respondents; they're writing the playbook for how to succeed in these areas. Similarly, only 7% of Thought Leaders and Loyalty Builders say the risk of client defection is extremely challenging for them.
Overcome Your Challenges
These three core themes — client relations, internal marketing, and workforce management — will continue to feature in our research results. So know if you're struggling with these as an agency owner, you're not alone, and there's an antidote.
We can look to these Thought Leaders and Loyalty Builders to understand what it takes to be unbeatable.
Next month, we'll spotlight these five segments, sharing how you can identify which one matches your agency. In the meantime, check out our executive summary to learn more about our research, the segments, and what it takes to become an unbeatable agency.
Click here to explore the data and watch an in-depth webinar with Susan Baier and Drew McLellan talking about the research and its implications for agency leaders.