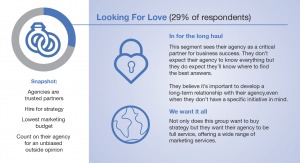 Today at the
BOLO conference for digital marketing agencies
,
Drew McLellan
and I presented the first look at our new study aimed at understanding how clients choose agencies — the attitudes clients hold about agencies, where they believe agencies offer value for their clients, and how clients want their agency relationships to be structured.
Agency Buyer Segments
Our research uncovered three distinct attitudinal perspectives among the respondents. One group, which we are calling "Looking For Love", is seeking a deeply connected and strategic relationship with their agency. For these respondents, their agency is a trusted business partner and will be involved in a wide range of activities including strategy, tactical execution and expertise sourcing.
The second segment revealed by the research we refer to as "Playing the Field". These respondents like agencies overall, but want to engage them for a particular expertise, as needed. They believe that it's important to change their agency roster periodically, even if their agencies are doing a good job.
The third segment, "Single and Satisfied", work with agencies but honestly don't feel they are critical when it comes to developing strategy, building plans, or executing tactically. These respondents say their organizations are well-positioned to handle strategy on their own, and when they do engage with agencies it's primarily for overflow capacity or to generate some ideas that the company can then execute on their own.
Demographics Aren't The Story
One of the most fascinating aspects of this study, for me, was the data showing that organizations holding these dramatically different opinions about agencies show virtually no difference in organization size, revenue or maturity — markers that are commonly used by agencies to determine the appropriateness of their target prospects. Instead, we see organizations across the spectrum on these measures feeling very differently about the role agencies should play in their marketing efforts, and how they want to engage with them.