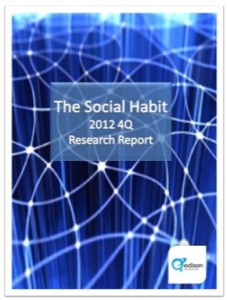 A few of my friends are putting together a fascinating new piece of research called The Social Habit, providing a wide range of insights into how consumers use social media. I'm really jazzed about their work, for a number of reasons.
1.  Hero Worship
Look, let's just get this out of the way first — these guys are da bomb. But you may be surprised to learn that the greatest share of my adoration goes not to the top-notch social media experts involved in the project — Jay Baer (my buddy and fellow airport layover drunkard), Jason Falls and Mark Schaefer — but to smartypants Tom Webster and his team at Edison Research.
Trust me on this — there are plenty of folks out there doing shoddy research, and plenty of businesses basing major strategic decisions on the insights of eight people in a stuffy room. The folks at Edison are a shining beacon for all of us striving to do research the best way it can be done. (OK, that sounds a little florid, but I get all heated up about good practice.) I'm thrilled about the rigor that will apply to this project as it does to all of Edison's work.