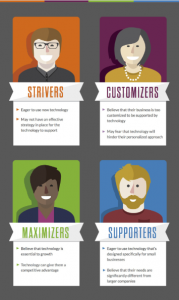 As you might imagine, the majority of the research we do for clients never sees the light of day beyond their doors. Typically it's behind the scenes, driving better marketing strategy — so you may experience the benefits of the work without ever knowing the data behind what you see.
However, occasionally a client chooses to share their data with a broader group, either to help their own customers better understand their strategy, or even to provide valuable information their customers can use in their own sales and marketing efforts.
One of our recent clients, marketing automation software company Infusionsoft, has published an in-depth report about the Audience Audit segmentation research we recently conducted among their small business customers and prospects. They call the study "The American Dream: What Really Motivates Small Business Owners" and have even created a nifty infographic to summarize key findings from the study.
Pop over to the Infusionsoft blog to read more, download the whitepaper and check out the infographic. It's always great to see clients enjoying, using and sharing their data!