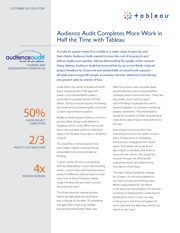 Running a small business isn't easy, and finding ways to improve your product or service to meet your customers' needs is a never-ending process.
For Audience Audit, sometimes the answer has come from great clients willing to help us develop great solutions. Sometimes it's from terrific providers who help us with things we don't do ourselves.
And sometimes, the answer lies in a tool that makes all the difference.
For Audience Audit, one of those tools is Tableau data visualization software.
Read our Customer Story on Tableau's website to find out why.