Your clients, and their budgets, come in all different sizes. So we've designed custom segmentation research to fit each of them.  All our of research features the same uncompromising approach to analysis, the same statistically reliable insights and the same personalized approach to working with your team.
Audience AuditTM - $8,500
Expanded Audience AuditTM - $10,000+
Executive Audience AuditTM - Priced on request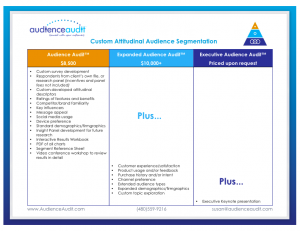 Download a PDF of our Audience AuditsTM
Audience AuditTM- $8,500
This Audit is perfect for clients wanting to gain statistically reliable insights into the attitudes of their audiences  – how they view the category, how they choose one brand or company over another, and the messages that they will find most compelling — at an economical price.  Differentiating between your client's customers, lapsed customers and prospects will allow additional insights to support future prospecting activities.
Custom survey development
Respondents from client's own file, or research panel (incentives and panel fees not included)
Custom-developed attitudinal descriptors
Ratings of features and benefits
Competitor/brand familiarity
Key influencers
Message appeal
Social media usage and device preference
Standard demographics/firmgraphics
Insight Panel development for future research
Interactive Results Workbook
Segment Reference Sheet
Video conference workshop to review results in detail
Expanded Audience AuditTM - $10,000+
This Audit goes to greater lengths to explore the complexity of the client's product and category, the issues that most interest them, and the experience of their current and lapsed customers.  In addition to the features of the Audience AuditTM, the Expanded Audience AuditTM offers:
Customer experience and satisfaction
Product usage and feedback
Purchase history and intent
Channel preference for browsing and buying
Extended audience types
Expanded demographis/firmgraphics
Custom topic exploration
Executive Audience AuditTM – Priced upon request
This Audit includes an Executive Keynote presentation, additional workshops or results presentations, and travel.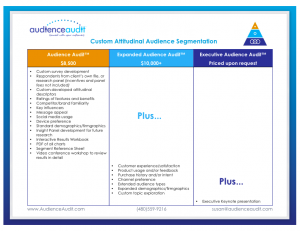 Download a PDF of our Audience AuditsTM
Learn More
To read more about why attitudinal segmentation is important, how it works and how your clients can benefit, download our "Why Audience Audit" whitepaper.