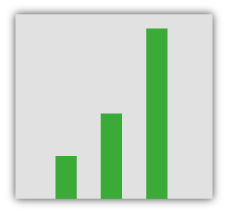 Every company deserves good data. Ever since I started doing audience segmentation research, I've been trying to find a way to make it more easily accessible for smaller organizations. Research of this kind often costs $60,000 or more. While our fee for a fully customized research project is much lower (typically between $20,000 and $30,000), even these rates put quality segmentation research out of reach for many companies. Every agency I've ever worked with has asked for a segmentation option that will work within smaller budgets.
Our challenge has always been to figure out how to offer a lower-fee option without compromising the quality of our research design, the exacting statistical standards of our analytics, or the statistically reliable nature of our work. In short, we won't do crappy research.
Finally, I've cracked the code and am very proud to announce two new Audience Audit segmentation options, in addition to our flagship full-custom approach. These products provide customized, quantitative, statistically reliable attitudinal segmentation for as little as $5,000.
How is this possible? In two words — standardization and automation.
1)  Standardization
Our flagship Custom View Audit is extremely time-intensive. Every aspect of the project, from the respondent sourcing strategy to the survey to the final presentation, is built from scratch exclusively for each client. That means that every survey is different, every data file is different, every set of charts is different, and every client presentation is different.
These new products allow customization for each client, but within strict parameters. So, for example, in the Focused View Audit the client can incorporate a custom list of motivational factors for choosing a brand or product within the category — but the list is limited to 20 items. They can assess awareness of usage of ten competitive brands and products. And they can test the relevance of 20 messages for both umbrella and segment-specific initiatives. Other elements of the survey, such as demographics, are standardized.
By structuring the survey this way, the structure of the data file remains the same, although the item names will change. This allows us to use the same exacting analytical techniques we use in all of our research, but dramatically reduces the time required to analyze the data and present the results. The client still gets top-shelf quantitative research that was conducted for, and is relevant to, them and only them.
2)  Automation
Historically the results of our work have been presented in a customized, 100-plus-page presentation deck. Each of the charts are built from scratch, and the entire process "tells the story" of the segmentation in detail. As you can imagine, this takes a great deal of time.
Many of our agencies want to incorporate the segmentation findings into their own strategic work on behalf of their clients, but don't necessarily need a full presentation of the segmentation itself that's client-ready. They would rather present the results as part of a larger initiative they're preparing for their client.
So all of our projects will now include the results provided in an interactive data visualization workbook via Tableau Reader. This software allows the agency to view, filter and customize the charts which reflect the segmentation findings, print out anything they want to embed in another document, and even share the interactive workbook with their clients should they choose. The software required to view and manipulate the data visualization is free, and will provide a resource they can return to again and again to see the data sliced in any way they want — by segment, by demographics, by respondent type, etc.
For both the Focused View Audit and the Expanded View Audit, the results will be reviewed with the agency via a videoconference, then provided to them in the interactive workbook. Only in a full Custom View Audit will we prepare an in-depth client presentation of the survey results in addition to the interactive workbook.
These new segmentation products will allow agencies to incorporate quantitative attitudinal segmentation into their strategic efforts for even their smallest clients — reducing the time required to build effective strategies, improving results, and providing incremental revenue opportunities.
Click here to read more about our new products, or download a comparison chart with the details.  And, of course, contact us to discuss how you can incorporate attitudinal segmentation into your client strategy!